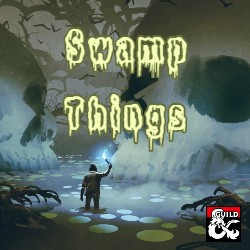 Swamp Things is a short monster manual supplement for Dungeons & Dragons Fifth Edition. As the name states, the monsters found therein are all native to marshy terrains.
The book showcases five monsters, each with a generous writeup, balanced stat blocks, and original illustrations. The monsters include:
The Kappa — a mischievous Japanese-inspired water demon with a fondness for cucumbers
The Skunk Ape — a elusive, stinky sasquatch
The Vampcat — blood-sucking fun without all the annoying vampire heartthrob drama
The Muckman — kind of like swamp thing, sans emotional baggage
The Weregator — a cold, emotionless lycanthrope who doesn't give two *****
Unlike many digital books that provide PDF only, this one gives you a full-color PDF, a print-friendly PDF, and two mobile file options for smaller devices (.epub and .mobi). The mobile files are especially nice for those times when you can't lug a computer to your next gaming session and need to just quickly reference something on your phone.
At a price of just $2, Swamp Things can make a nice addition to your next D&D 5e game run in a swamp environment. Click here to download Swamp Things at the DMs Guild.